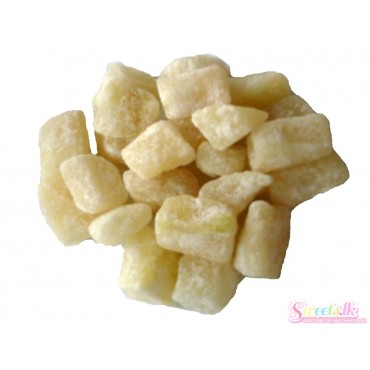 View full size
Remove this product from my favorite's list.
Add this product to my list of favorites.
Puhul Dosi
Srilankan Sweets
by
Sweet House
Available
Puhul Dosi or pumpkin preserve, with its glistening granules of sugar glaze, comes in roughly cut chunks or cubes, which becomes an indulgence of one too many. In celebration of the same, rolls in the well-rounded Seeni-Bola. These candy striped spherical toffees are truly a pleasure to see, especially for a room full of sweet teeth.
INGREDIENTS - white pumpkin, sugar, wineglass rose-water, water

Rs. 245.00
( Rs. 245.00 per 500g )
Prices: Listed price may vary from the shop price.
Delivered in: 1 - 2 Working Days
Delivery areas - Colombo 1 - 15 ( for other areas call us - 0777 12 12 15 )