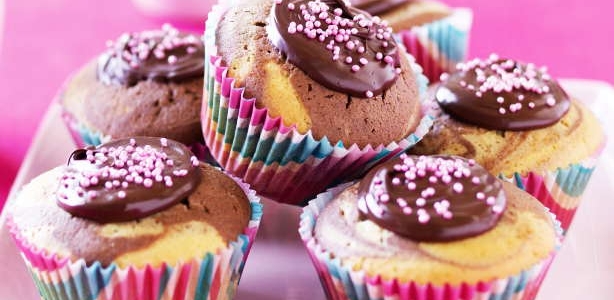 2014-07-29
Ingredients:-

125g unsalted butter, softened
1 teaspoon vanilla extract
3/4 cup caster sugar
3 eggs
1/3 cup milk
1 1/2 cups self-raising flour
2 tablespoons cocoa powder, sifted
80g dark choc melts
pink sprinkles, to serve



Method:-

Step 1

Preheat oven to 180°C/160°C fan-forced. Line a 12-hole, 1/3 cup-capacity muffin pan with paper cases.

Step 2

Place butter, vanilla, sugar, eggs, milk and flour in a bowl. Using an electric mixer, beat on low speed until combined. Increase speed to high. Beat for 2 to 3 minutes or until pale.

Step 3

Spoon 1 1/2 tablespoons of mixture into each muffin hole. Add cocoa to remaining mixture. Stir to combine. Spoon cocoa mixture into muffin holes. Using a skewer, swirl mixtures together. Bake for 20 to 25 minutes or until a skewer inserted in the centre of 1 cake comes out clean. Stand in pan for 5 minutes. Turn out on to a wire rack to cool.

Step 4

Place choc melts in a microwave-safe bowl. Microwave on high (100%) for 30 seconds to 1 minute, stirring every minute with a metal spoon, or until smooth. Spoon 2 teaspoons of chocolate on each cake. Top with sprinkles. Stand at room temperature until set. Serve.